Act Now – Go to IRS.gov – A Message from Social Security Commissioner Andrew Saul
Action Needed for Social Security Beneficiaries with Dependents and Who Do Not File Tax Returns to Receive $500 Per Child Payment
"Social Security beneficiaries and Supplemental Security Income (SSI) recipients who don't file tax returns will start receiving their automatic Economic Impact Payments directly from the Treasury Department soon. People receiving benefits who did not file 2018 or 2019 taxes, and have qualifying children under age 17, however, should not wait for their automatic $1,200 individual payment. They should immediately go to the IRS's webpage at www.irs.gov/coronavirus/non-filers-enter-payment-info-here and visit the Non-Filers: Enter Payment Info Here section to provide their information. Social Security retirement, survivors, and disability insurance beneficiaries with dependent children and who did not file 2018 or 2019 taxes need to act by Wednesday, April 22, in order to receive additional payments for their eligible children quickly. SSI recipients need to take this action by later this month; a specific date will be available soon.
By taking this proactive step to enter information on the IRS website about them and their qualifying children, they will also receive the $500 per dependent child payment in addition to their $1,200 individual payment. If beneficiaries in this group do not provide their information to the IRS soon, their payment at this time will be $1,200. People would then be required to file a tax year 2020 tax return to obtain the additional $500 per eligible child.
I urge Social Security and SSI recipients with qualifying children who do not normally file taxes to take action now. Immediately go to IRS.gov so that you will receive the full amount of the Economic Impact Payments you and your family are eligible for.
People with Direct Express debit cards who enter information at the IRS's website should complete all of the mandatory questions, but they may leave the bank account information section blank as Treasury already has their Direct Express information on file.
Additionally, any new beneficiaries since January 1, 2020, of either Social Security or SSI benefits, who did not file a tax return for 2018 or 2019, will also need to go to the IRS's Non-Filers website to enter their information as they will not receive automatic payments from Treasury."
# # #
To get more Social Security news, follow the Press Office on Twitter @SSAPress.
RESOURCES
Get Ready to Vote - on June 23rd! All previously scheduled elections for March and April (including the presidential primary originally scheduled for tomorrow!) are rescheduled for Tuesday, June 23rd. As of last Friday, Gov. Cuomo has signed an executive order ensuring that all registered voters will automatically receive an application to request an absentee ballot. Learn more HERE.
Who's Hiring Right Now Many in our community are looking for temporary or permanent jobs right now. Check out this "who's hiring" list to find some opportunities that might be a good fit for you HERE.
Veterans Mutual Aid - NYC Metro Have questions or want a check-in? Do you need groceries or other immediate needs? Let us do our best to get you help and answers. Get the latest info and request help HERE.
NEWS
New York and New Jersey Lead the Nation in COVID-19 Deaths at VA Hospitals New York state leads the country in deaths at hospitals run by the Veterans Health Administration, the nation's largest healthcare network, according to data from the U.S. Department of Veterans Affairs. New Jersey followed New York with the second-highest number of deaths nationwide, followed by Louisiana and Michigan, according to that data. "We feel that is the tip of the iceberg honestly," said James Fitzgerald, deputy director of the NYC Veterans Alliance. "I am quite concerned about the numbers we've seen historically when it comes to the VA turning away patients in order to have a lesser number of impacted personnel."
More Than 50 Deaths From COVID-19 Reported at LI Veterans Home A Long Island veteran's home has become the latest facility in the tri-state to see COVID-19 wreak havoc on its residents, leaving 52 dead and 65 sickened. The Long Island State Veterans home flew flags outside the facility at half-staff on Friday, as a way to honor those they had lost. Gov. Andrew Cuomo said Thursday that the state Department of Health and state Attorney General Letitia James' office would be investigating to see how nursing homes are meeting regulations including alerting all residents and their family members of coronavirus cases and fatalities.
More Deaths, No Benefit: VA Tests Hydroxychloroquine on Sick Veterans A malaria drug widely touted by President Donald Trump for treating the new coronavirus showed no benefit in a large analysis of its use in U.S. veterans hospitals. There were more deaths among those given hydroxychloroquine versus standard care, researchers reported.
Troops Render Final Salute for Veteran at Javits Center New York National Guard members working at Javits Center field hospital learned a veteran died of COVID-19. 60 people stood at attention & saluted. Our gratitude to these troops rendering final honors for a veteran tragically lost to this pandemic.
VIRTUAL EVENTS
Blue Star Families Virtual Coffee Chat Join Blue Star Families Monday mornings at 10am (EST) for Virtual Coffee Chats! Connect over a cup of coffee, tea, juice, whatever you choose, to visit with other Blue Star Families and have some fun visiting with new friends. Bring a friend!!
NYU SPS Veterans Association Barracks to Business NYU School Of Professional Studies, Veterans Association and Northwell Health present Barracks to Business: The Next Mission on April 27, 3-4pm. Take a break from your busy day and join the NYU SPS Veterans Association to help you develop and sharpen your virtual networking skills. Hosted by Jason Clarke, who will discuss resume building, opportunities at Northwell Health, and transitioning to a meaningful career.
Blue Star Families Music Meet-Ups Join Blue Star Families Tuesday mornings at 11am (EST) for Music Meet-Ups! Jennifer Garretson, a professional musician and music teacher, has partnered with Blue Star Families to offer a 5-week virtual course on a variety of musical performance and theory topics. ALL ages are welcome! You may join one or all of the sessions.
Strategies to Build Wealth with Your TSP Online Event Military Officers Association of America offers an Online Event - The Thrift Savings Plan—Strategies to Build Wealth with Your TSP (Part 2) on April 28, 2-3pm (EST). MOAA's finance and benefits educators/counselors field lots of questions from military classrooms, emails, and phone calls from members unsure about how to use and manage their TSP accounts. Your instructor, Shane Ostrom, worked in the investment business and as a Certified Financial Planner, he provides honest, unbiased information without sales pitches or catches.
Blue Star Families Virtual Baking Classes Blue Star Families partnered with Gladdened Heart Bites and Bakerie to bring you a virtual baking class on April 28, 3-4pm (EST). To support all families who are homeschooling right now, the theme for the classes will be: Homeschooling Teacher Appreciation. Yummy goodies like homemade Oreos, PB&J bars, and strawberry Pop-Tarts are on the menu!
COVID-19 Virtual Town Hall Watch this Town Hall from the COVID-19 Military Support Initiative, Association of Defense Communities, and Blue Star Families: Self Care and Resiliency for Military Families during COVID-19 on April 28, 3-4pm (EST).
Blue Star Families Virtual Wind-Down Wednesdays Join Blue Star Families for Virtual Wind-Down Wednesdays Happy Hour at 5pm every Wednesday. Hosted by Mike and Allyson Harasimowicz, spend some time talking through our current situation, hear about some BSF events coming your way, share some stories of life in the military, and ideas of how to spend time at home - over a glass of your favorite beverage!!
New Politics Virtual Leading With Purpose New Politics Leadership Academy offers a Virtual Leading With Purpose session on April 30, 12-1:30pm. They've launched this new program to help their communities serve and lead in this time of unprecedented change.
Blue Star Families MCEC Parent to Parent Workshop Blue Star Families and MCEC Parent to Parent Program present an online educational workshop every Thursday at 1pm (EST). On April 30, Explore Qualities that Make Military Families Strong. Examine daily habits that build lasting connections with children and learn strategies for building, fostering, and strengthening enduring family bonds.
Which Business Sector is Right for You? Webinar Military Officers Association of America offers an Online Career Event - Which Business Sector is Right for You? on April 30, 2-3pm (EST). MOAA career transition consultants work with lots of candidates who aren't exactly sure what they would like to do after they hang up their military uniform and enter civilian life. This career development webinar will provide information and advice to help you make an informed decision about your next career move whether it be in the government, private, nonprofit sectors, or maybe something more non-traditional.
VetsinTech Virtual Employer Meetup Join VetsinTech New York City and Northeast Chapters for a special Virtual Employer Meetup on April 30, 6-7pm. Hear from panelists from Google, Facebook, Cloudera, and ConEdison as they discuss opportunities at these companies and in the tech ecosystem in general. Military, veterans and mil/vet spouses of all experience levels are welcome. Learn from other veterans on how they got into tech and hear from recruiters on what they are looking for. Also hear exciting updates from VetsinTech.
Operation Code NYC Virtual Meetup Operation Code NYC holds an Introduction to Front-End Engineering virtual meetup on April 30, 6:30-8:30pm (EST). Military affiliation is not required and everyone is welcome.
Veterans Art Workshop Online Guided Meditation The Veteran's Art Workshop Online Portal offers weekly Friday Guided Meditation Sessions on May 1, 1pm (EST). MJ leads sessions here with diary + tools/tips for maintaining wellness: cooking/gratitude practice/Q&A. VAW-OP is brought to you by Exit12 Dance Company, De-Cruit and Women Veterans Empowered and Thriving (WVET).
9/11 Memorial & Museum: Finding Osama Bin Laden Attend an online public program Nine Years Later: Finding Osama Bin Laden on May 1, 2pm (EST). A decade of hard-fought teamwork culminated in Operation Neptune Spear, the raid on the Abbottabad compound which brought Osama bin Laden to justice. On the ninth anniversary of the raid, Robert Cardillo, former director of the National Geospatial-Intelligence Agency (NGA), will offer an insider's look at what inspired key leaders to continue pursuing an elusive target. In light of the current global pandemic, Cardillo will also reflect on the role of the intelligence community (IC) in response to widespread infectious disease, drawing on his experience during the Ebola outbreak of 2014. As we look to apply our collective lessons learned, Cardillo will offer some suggestions about increased responsibility for the IC going forward – while well aware of the civil liberty and privacy implications.
Veterans Art Workshop De-cruit During Isolation The Veteran's Art Workshop Online Portal offers weekly Friday De-cruit During Isolation Sessions on May 1, 6pm (EST). Join the workshop here. In these sessions, use DE-CRUIT techniques to calm our fight or flight response and connect with each. VAW-OP is brought to you by Exit12 Dance Company, De-Cruit and Women Veterans Empowered and Thriving (WVET).
ASAP Live-stream Comedy Show Armed Services Arts Partnership (ASAP) presents a Live-stream Comedy Show on May 1, 8-9pm (EST). Enjoy this stand-up comedy show featuring Matt Iseman of American Ninja Warrior, stand-up comedian PJ Walsh, and ASAP veteran comedians. Matt Iseman is an ASAP Ambassador, host of NBC's American Ninja Warrior and Live Rescue, and the winner of Celebrity Apprentice. PJ Walsh serves on ASAP's Artist Council and has performed stand-up comedy on over 20 overseas tours for U.S. troops in several countries including Iraq and Afghanistan.
Veterans Art Workshop Lucid Body Sessions The Veteran's Art Workshop Online Portal offers weekly Saturday Lucid Mind/Lucid Body Sessions on May 2, 1pm (EST). Join Fay's class here, with a mindfulness and movement exploration geared to self expansion. VAW-OP is brought to you by Exit12 Dance Company, De-Cruit and Women Veterans Empowered and Thriving (WVET).
Warrior Writers Online Writing Workshop Warrior Writers and Writers House host a free Virtual Writing Workshop for veterans on May 2, 1-3pm. Part of Outside the Wire, the Writers House's year-long project highlighting veterans' narratives, this generative writing workshop invites veterans to explore their experiences in the service and at home through readings, writing prompts, and discussion.
Check out all upcoming events at OurVeterans.NYC!
BULLETIN BOARD
Veteran Voices Project It's more important than ever before to connect with each other as a community. The Veteran Voices Project creates an opportunity for us to do just that! Led by the New York City Department of Veterans' Services, VVP is an oral history initiative designed to capture and share the stories of New York City veterans, bridge generational gaps, preserve our city's rich military history, and foster an appreciation for service. More importantly, it gives our veterans a chance to connect with the community and each other at a time when crisis and social distancing can be very challenging to deal with.
See more opportunities on our Bulletin Board!
Wishing health and safety to you and yours!
NYC Veterans Alliance
This weekly e-newsletter and OurVeterans.NYC are produced by NYC Veterans Alliance to connect, inform, and empower veterans & families across the NYC Metro area. Submit your events & bulletin items to ourveterans@nycveteransalliance.org. Please spread the word and help us continue this important outreach by donating any amount today. Thanks for your support!
-=-=-

NYC Veterans Alliance · PO Box 532, New York, NY 10159, United States
This email was sent to waderay@hotmail.com. To stop receiving emails, click here.
You can also keep up with NYC Veterans Alliance on Twitter or Facebook.

-=-=-
Created with NationBuilder, software for leaders.
New York is preparing mass graves for unclaimed bodies as coronavirus death toll rises.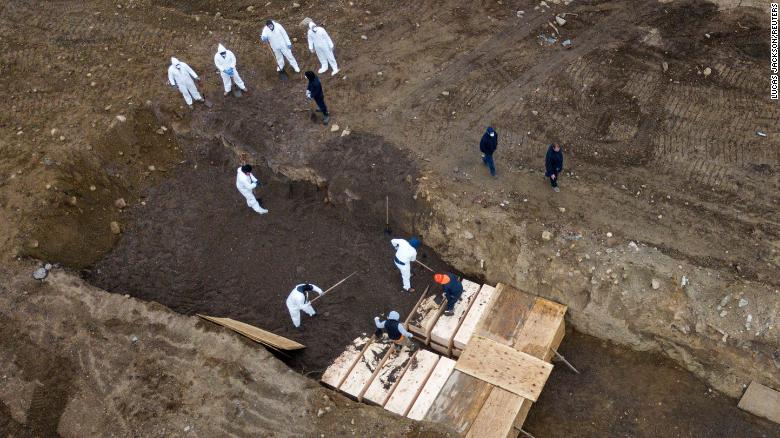 The bodies will be place at Potter's Field known as Hart Island on Rikers Island, Queens NY
History we know that unclaimed Veterans have been buried there for the past 150 years.